The Facts About Heat Pumps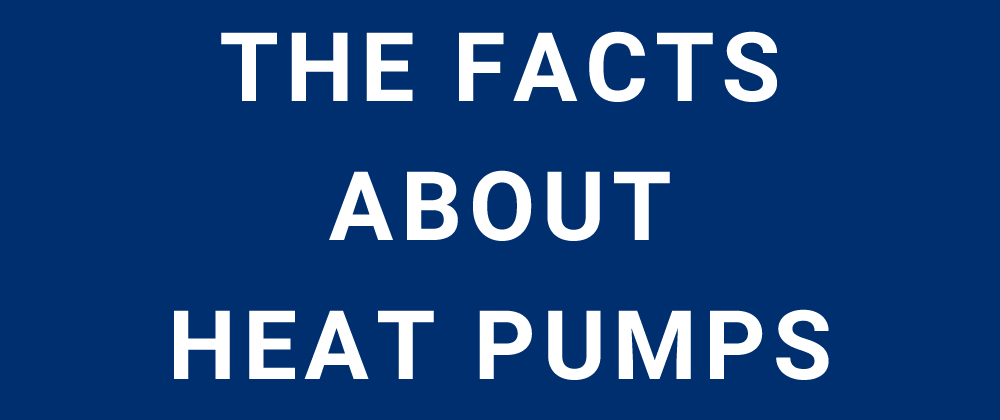 When it comes to heat pumps, there are lots of rumours around. From whether heat pumps are actually reducing our environmental impact, to whether they're part of a government conspiracy to spend taxpayer money.
To put some of these rumours to bed, we decided to explain them directly to help you get to the facts about how heat pumps work, how efficient they are and how much they actually cost.
#1 It's all a government scam
In his video, Roger Bisby claims that £11.8 billion of taxpayers' money will be paid to heat pump installer companies as an incentive for them to sell more devices. Although it's difficult to know where this exact figure comes from, even if you take home improvements, upgrading insulation and other projects such as biomass into account, this figure is way out.
As part of their Ten Point Plan, or green industrial revolution, the government is dedicating £3 billion to making homes, schools and hospitals 'greener, warmer and more efficient'. The Green Homes Grant has also been extended and there's a pledge to install 600,000 heat pumps by 2028.
Roger says that installing heat pumps will only have a negligible impact compared to keeping gas boilers, as newer models are significantly cleaner and more environmentally friendly. However, in our opinion, even if you can reduce our impact by 1%, that will make a huge amount of difference to the global climate and ensure that we're doing our bit to bring about sustainable change.
#2 It's three times more expensive than a gas boiler
This is a claim we hear a lot but the statement fails to take a number of factors into account. Yes if you compare 1KW worth of electricity to the equivalent amount in gas, then there is a disparity in cost. However,  a lot of the heat energy generated by heat pumps comes from other sources, such as the air and the ground, meaning you get around three or four times the amount of heat out compared to the amount of electricity you put in.
It is worth noting though that any reputable installer should carry out a heat loss survey to ensure a heat pump is a suitable solution for your house. If you're house isn't adequately insulated, for example, then running a heat pump will cost you a fortune. Homes that leak heat should never have a heat pump installed.
Roger also claims that installers are selling more heat pumps by telling people that gas prices are set to skyrocket. However, under the Renewable Energy Consumer Code, we're not allowed to comment or speculate about prices or tariffs to customers. This means that none of our team, or any from a reputable installer, will try to sell heat pumps to you on this basis.
#3 People are unhappy with their heat pumps
We often come across customers who are unhappy with a previous installer's work. They often complain that their heat pump has raised their energy bills and isn't producing enough heat for their home. However, if your heat pump is installed by a trusted company or qualified contractor, then you should be happy with how your heat pump performs.
If a customer ever came to us and said that their house wasn't warm and their energy costs were high, we would work to solve the problem by:
Running heat loss calculations to see if more heat is being let out of the house than can be produced by the pump. If a house doesn't have adequate insulation, window glazing, etc. then we would never recommend that a heat pump be installed. In a case where it has, there may be improvements that can be made to the house to ensure the heat pump runs efficiently.
Look at the size and location of the heat pump. In some cases, the heat pump may be too small for the system's requirements. It also may be installed too far from the house, meaning it can't deliver heat efficiently or is in a place where it's being blocked and therefore can't collect enough heat to function properly.
Consider the size of the radiators. For heat to be distributed efficiently from a heat pump, there needs to be a large enough surface area on the 'emitters' or radiators. Even changing a single radiator to a double radiator that's more efficient can make a huge difference.
To avoid getting into a situation where you're unhappy with your heat pump system, it's so important that you do your due diligence. Researching the basics of how heat pumps systems work so you understand the fundamentals and finding an experienced heat pump specialist is key. We never charge for a job until a customer is 100% satisfied, and you shouldn't settle for anything less than that.
#4 Heat pumps are highly inefficient
Roger claims that heat pumps often lead to a coefficient of performance (COP) of two or three at best. If you look at any new heat pump, they should have a COP of at least three. However, the performance of the whole system, and therefore the device itself will vary depending on system demands, outdoor temperature, the season, etc.
60% of homes in Sweden have heat pumps already installed and there's a reason why – because they're highly efficient and less impactful on the environment than other methods.
#5 This heat will be wasted in the summer
Heat pumps aren't just used to run heating systems, but for hot water too. Even if you have a gas boiler, you'll only use your heating system for around half a year. Heating hot water can account for up to 20% of a system's work, and heat pumps have been shown to do this efficiently, whatever the season.
#6 Heat pumps are noisy
Any decent quality heat pump will be quiet. You won't hear them when you're standing a metre in front of them and certainly not from inside your house or the next-door neighbour's garden. Old poor quality pumps will be noisy, especially if they're not installed correctly.
If you're worried about the noise a heat pump will create, then go to a business with a showroom to see how they operate. It's recommended you do this anyway to make sure the heat pump you finally choose is the correct option for your house and to get advice from experts in the showroom.
#7 You shouldn't install a heat pump if your house is unsuitable
Correct. This is why it's really important to get a heat pump specialist involved in your installation from the start.
You shouldn't get a heat pump installed if:
Your house isn't adequately insulated or glazed, meaning lots of heat is lost easily.
You can't put a heat pump within ten metres of your house, or if there's no room to install an alternative system.
You've not seen the heat pump that will be installed yourself.
Most importantly, it's key that you get all your questions answered and complete due diligence with advice from a heat pump specialist.
#8 There are lots of cowboy heat pump installers out there
Roger claims that companies have spent millions to train 15,000 heat pump installers who don't even understand the basics of heating and plumbing systems. They're carpenters or shopkeepers who have suddenly decided to change their careers and start ripping out people's heating systems.
However, the truth is that it's only qualified heating and plumbing engineers who will be up skilling to become heat pump installers. This is because, to understand the basics of heat pump installation, you have to understand how heating and plumbing systems work.
Currently, there are only 1,900 MCS-certified installers in the UK. We need closer to 27,000 to keep up with demand. That's why we're developing initiatives like the HPIN Network to ensure installers have the skills and support their need to do the best job for customers.
We also make sure we do our best for customers by: 
Performing a full analysis to ensure that a heat pump is the right solution for their house.
Drawing up an installation plan that minimises disruption and gets the best performance from the heat pump.
Completing an installation as efficiently as possible with an experienced, qualified team of installers.
By doing a good job, we hope to put the rumours about heat pumps to bed and ensure that everyone can understand their benefits, both for households and the environment.
Don't hesitate to give us a call on 01255 821443. Alternatively, you can fill out a call-back request form and a member of the team will be in touch.